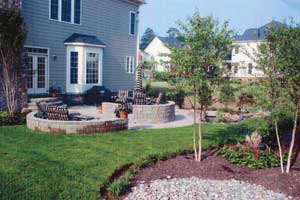 Our design and landscape team help make your landscaping dreams come true. We are dedicated to fulfill your needs whether it be designing, installation, maintenance, or supplying plant products. With our experience, proper tools-equipment, and design knowledge of the project-task, we give our clients the comfortable confidence that the job will be accomplished to your satisfaction and within your budget.
Softscape features have many uses in landscaping. They can, make a smoother transition from one part of a home to another. They can be used to make hardscape features like walk ways, and retaining walls blend-in, improving the overall scheme of the landscape. Softscapes can hide or camouflage an undesirable element in the landscape like utilities or an exterior house elements.
Many designers will use softscapes features to add seasonal color to the landscape. With the use of a combination of evergreen and flowering plants it is possible to provide constant color through out the growing season. With the variety of plant material available it makes for an enjoyable experience to change the look of your home exterior.
Our process begins with meeting with the client, discussing project desires, issues, and budget. Presentation of the design, and an estimate along with our recommendations will be addressed in the second meeting. Knowledge of plant material and site conditions are components we use to insure functional site development and creative landscape design. We will clear and grade your property to prepare for sod and other foundation planting to surround your home.
"Homes with 'excellent' landscaping can expect a sale price about 6 to 7 percent higher than equivalent houses with "good" landscaping, while improving landscaping from 'average' to 'good' can result in a 4 to 5 percent increase." Source: Clemson University
Many of our clients need help planning and designing their landscape. There are many elements to landscape design, and our design staff can assist you in everything from planning hardscape elements to plant selection, and finally, installation.


We offer a complimentary design consultation and visit of the site to determine your general needs and requirements. If both parties agree, we proceed with the design process. We will then do a site inventory and analysis, reviewing and measuring everything on your property. This includes topography, vegetation, bodies of water, buildings, other structures such as walls and fences, driveways and walkways, utilities, and any other elements considered necessary for developing the design. All this information is compiled and a Base Plan of the property is prepared.


Next we will interview you to determine what the landscape design needs to accomplish. This should include all family members if possible, as different family members may have different ideas on what the landscape should or should not do for the residence. Please note this list is a general guideline for a full residential landscape project and it changes with different types and sizes of design projects.


Family Members. We speak with all family members primarily to see what their hobbies and activities are at home and see how those things affect the landscape design. Are there any small children or pets to be considered? Should there be a lawn area for dogs or for playing games? Does the client sunbathe, meditate, read or lounge outside often? Is cooking done outside? Does the client entertain often?


Gardening. We then determine what kind of garden is appropriate for the family. Is there a preference on the location of the garden? Are there any family members that enjoy gardening? Are there any special gardening likes such as herbs, vegetables, or a cutting garden? Are there any favorite plants that should be added to the design? Are there plants to be avoided? Is the client interested in a xeriscape (low water) garden?


Maintenance. We then identify how much time you would like to spend in the future on maintenance. Do you do the maintenance or is there a gardener? Would you prefer a low maintenance garden? If you wish, we offer a plant list with maintenance requirements on the plants we choose for the landscape. This helps you to know when and how to take care of perennials for the best plant maintenance and health.


Budget. We will talk with you about how much you are willing to spend, and if the project is to be done all at once or in stages. We will do our best to work within your time frame and budget.


All of this information is used to create the best possible design for the site, the client's needs and budget. We then work on the design, many times offering a couple of different design options for the client. When everything is agreed upon, we can proceed with the installation. We first do any demolition or clearance work needed to make way for the new design. Next comes the installation of any hardscape features (paths, walkways, planting beds, fences, etc), irrigation and lighting. The plants and garden accessories add the final touch, with our design team overseeing and working with our landscaping staff to make sure everything is perfect.