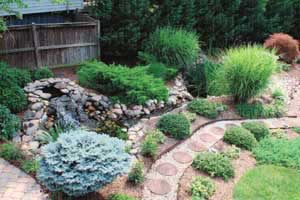 At Henry Enterprises, Inc., "One call does it all." - and it should! How many times have you heard friends or family members complain that their landscaping cannot be finished until another contractor comes in to do the hardscape first? Hope many times have those same people said that they were happy with the look of their lawn pond but unfortunately, the ground has shifted and the walkway is now cracking?
Within the Henry Enterprises family, we have a variety of skills at our disposal. We have landscapers, hardscapers, irrigation experts and various other people, all working in tandum to ensure that your lawn not only looks spectacular but is built in the most timely fashion possible. We guarantee that whenever our team gets involved in a project we will work as efficiently as possible to create an environment you and your family can be proud of.
In addition to the construction of your own little piece of tranquility, we understand how important it is to plant quality products. We understand that not only is an initial look and feel of the property important but the longevity of such a property is just as important. Because of this, we put our full guarantee behind the vegetation we use. Plants and trees are both covered for an entire year, after our lanscaping is complete. So you can rest assured that not only will you and your family be able to enjoy your property for weeks after the completion of the task but you will enjoy it for the years to come.
Finally, at Henry Enterprises, Inc, we believe in customer care. Whenever you call us, our highly-trained support staff will quickly work to understand the nature of your needs and communicate them to our team of consultants. Through evaluation, planning and decades of knowledge at our disposal, we guarantee to give you the best price we can, while maintaining the quality work that our business prides itself on.