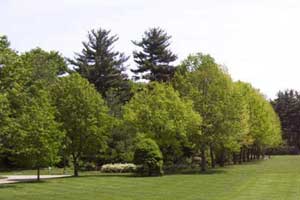 YINGLING'S TREE SERVICE provides custom tree services to homeowners, and commercial properties desiring of quality workmanship. Our mission is to create a safe and welcoming atmosphere to clients in Blair County.
Trees are a living investment that enhance your home's image, and create a positive first impression of beauty, prestige and practicality. A healthy tree increases in value with age, purifying our air, and saving energy by providing shade and protection from strong winds. Yet on the other hand, poorly maintained trees can be a significant liability.
We know that you have budgets to meet and our recommendations reflect these considerations. We wish to provide the best value for your investment. It is our goal to meet the real and perceived needs of all of our clientele.
Pruning
Proper pruning not only enhances the beauty of your trees, but it is necessary for their continuing health and vigor. Removing dead wood, correcting weak branching habits, reducing wind resistance, and improving overall appearance and safety of your trees is of the utmost importance in any landscape maintenance plan. Correct pruning techniques also improve the insect and disease resistance of a tree. Done regularly, proper pruning will help your trees last for generations. Maintenance and hazard reduction pruning is recommended to maintain or improve tree health and structure.
Pruning Types - Should consist of one or more of the pruning types noted below.
Crown Cleaning - the selective removal of the following: dead, dying, diseased crowded branches, weak branches lower vigor branches and water sprouts from the tree canopy, shrub or hedge.


Crown Thinning - the selective removal of branches to increase light and air circulation throughout the canopy, also lessens wind resistance and damage potential from storms. Thinning reduces weight on heavy limbs, and helps restore the tree's natural shape.


Crown Raising/Elevating - the removal of the lower branches of a tree to provide clearance vista, vehicles and pedestrians.


Crown Reduction, or Crown Shaping - decreases the height and/or spread of a tree canopy by pruning back leaders. It is important to examine the ability of a species to sustain this type of pruning.


Structural/Vista Pruning - is selective thinning of limbs or specific areas of the crown to improve appearance, allow a view maintain space between other trees, buildings, or power lines.


Crown Restoration - Crown Restoration pruning should improve the structure, form and appearance of trees which have been severely headed, vandalized, or storm damaged.

Mulching
Can reduce environmental stress by providing trees with a stable root environment that is cooler and contains more moisture than the surrounding soil. Mulch can also prevent mechanical damage by keeping machines such as lawnmowers and weed whips away from the tree's base. It also helps reduce competition from the surrounding weeds and turf.

Tree and Stump Removal
Although tree removal is a last resort, there are circumstances when it is necessary. Removal is recommended when a tree is dead, considered irreparably hazardous, causing an obstruction that cannot be corrected through pruning, crowding or causing harm to surrounding trees, or is being replaced for a more desirable specimen. Our certified Arborists will help you ascertain the condition of your tree and recommend the proper action to ensure safety and tree health. Our modern equipment and highly trained specialists can remove a tree to several inches below ground level, ridding your landscape of unsightly stumps.

Brush Chipping
We can utilize our chipper to chip brush upon request.

Tree Planning
Trees are complex with many parts that function together so that the tree can grow and thrive. We help you to understand this to aid in selecting, planting, and caring for trees. Our professional landscapers will plant the trees selected by you and those we recommend to obtain a particular landscape effect.

Emergency Storm Damage
We will respond 24 hours a day to remove trees and stumps in the event of any storm damage.